1.
The Devil Wears Prada
Starring: Anne Hathaway; Meryl Streep
In New York, the simple and naive just-graduated in journalism Andrea Sachs is hired to work as the second assistant of the powerful and sophisticated Miranda Priestly, the ruthless and merciless executive of the Runway fashion magazine. Andrea dreams to become a journalist and faces the opportunity as a temporary professional challenge. The first assistant Emily advises Andrea about the behavior and preferences of their cruel boss, and the stylist Nigel helps Andrea to dress more adequately for the environment. Andrea changes her attitude and behavior, affecting her private life and the relationship with her boyfriend Nate, her family and friends. In the end, Andrea learns that life is made of choices. Written by Claudio Carvalho, Rio de Janeiro, Brazil
2. Confessions of a Shopaholic
Rebecca Bloomwood (Isla Fisher) is a shopping addict who lives with her best friend Suze (Krysten Ritter). She works as a journalist for a gardening magazine but dreams to join the fashion magazine Alette. On the way to an interview with Alette, she buys a green scarf. Her credit card is declined, so Rebecca goes to a hot dog stand and offers to buy all the hot dogs if the seller gives her back change in cash, saying the scarf is to be a gift for her sick aunt. The hot dog vendor refuses but a man offers her $20.
When Rebecca arrives at the interview, she's told that the position has been filled. However, the receptionist tells her there is an open position with the magazine Successful Saving. Rebecca interviews with Luke Brandon (Hugh Dancy), the editor of Successful Savings and the man who just gave her the $20. She hides her scarf outside his office, but Luke's assistant comes into the office and gives it back to her. Rebecca knows the game is up and leaves.
read more ....
3. Sex and the City 1&2
Set four years after the events of the series finale, the film begins with a montage of Carrie (Sarah Jessica Parker), Samantha (Kim Cattrall), Charlotte (Kristin Davis) and Miranda (Cynthia Nixon) walking through New York and a recap of what happened in the TV series as well as what happened between the season six finale and the film. It then jumps to Carrie and Big (Chris Noth) viewing apartments with the intention of moving in together. Carrie falls in love with a penthouse suite far from their price range, which Big immediately agrees to pay for. However, Carrie experiences doubts over the wisdom of this arrangement, explaining that they are not married, and as such she would have no legal rights to their home in the event of a separation. She offers to sell her own apartment, and quelling her fears, Big suggests that they get married.
Miranda (Cynthia Nixon) is finding balancing her home, work, and social life ever more difficult, and confesses to the girls that she hasn't had sex with Steve (David Eigenberg) in six months. She is devastated when Steve reveals he has slept with another woman, and immediately separates from him.
read more ....
4. Material Girls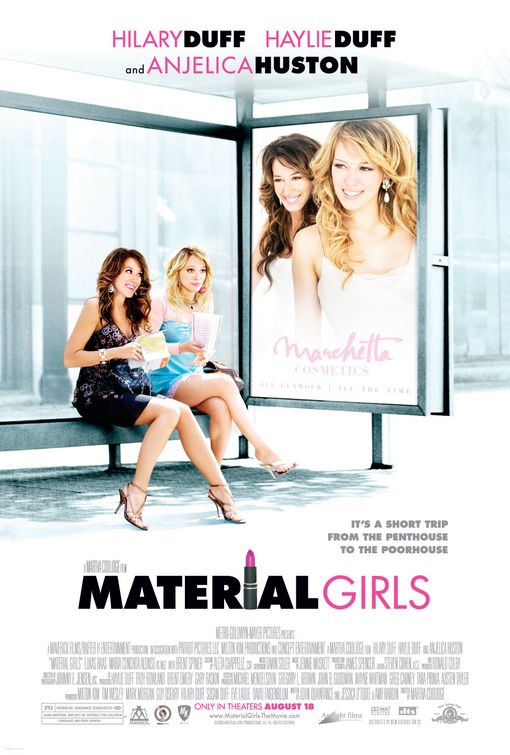 Tanzie (Hilary Duff) and Ava (Haylie Duff), a pair of rich, spoiled Hollywood socialites who enjoy material things such as shopping and dating rather than caring about their late father's cosmetics company. When a major media scandal involving one of the company's products turns into an investigation, the girls find their assets frozen and must adjust to life without their fortune. Just when it seems like things couldn't get any worse, disaster strikes again.
When a fire starts in their home, Ava quickly takes all her clothes while Tanzie, caring about her father more, takes her dad's TiVo and some clothes. They are tempted to listen to their advisors and sell the company to their biggest competitor, Fabiella (Anjelica Huston), for just - "only" as they say - over $60 million each.
read more ...
5. Beverly Hills Chihuahua
Vivian Ashe (Jamie Lee Curtis) leaves her pet chihuahua Chloe (Drew Barrymore) with her irresponsible niece Rachel (Piper Perabo). However, when Rachel decides to go to Mexico with her friends, Chloe gets dognapped. She is sent to the dog fights, and meets a German Shepherd named Delgado (Andy Garcia). Delgado helps her escape the dog fights and attempts to get her back to Beverly Hills. Meanwhile, Rachel is searching for Chloe with Sam (Manolo Cardona) and Papi (George Lopez), landscaper and dog before Aunt Viv gets home.
When Delgado was talking to his friend from when he was in the Mexican Police, Chloe encounters a pack rat named Manuel (Cheech Marin) trying to steal Chloe's diamond collar. She is tricked into giving him the collar, which was going to be used to get her home.
note: this survey is only done locally, this was not done by any survey company